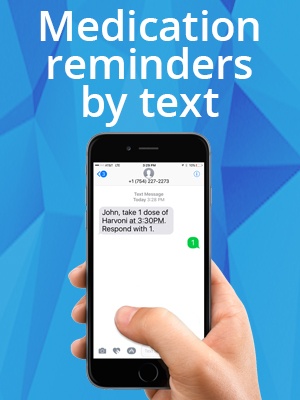 Medication non-adherence presents a serious challenge not just for pharmacies, but for healthcare organizations across the continuum of care. Adherence rates are tied to both cost and quality of care. Studies show that half of all patients of all patients don't take their medications as prescribed, and this poor adherence drives approximately $105 billion in avoidable healthcare costs.
To help our patients manage their medications and keep track of their treatment program, we are offering our patients a new medication adherence program developed in partnership with CareSpeak Communications, a leading mobile health services company. Designed to be simple, secure and convenient for patients, the program sends text alerts when it is time for a patient to take or refill their medication. These alerts can be customized to deliver results for patients with even the most complex medication regimens. In fact, a CareSpeak pilot study in collaboration with Avella, demonstrated a 29 percent increase in adherence rates for patients who had low compliance with their drug regimen prior to enrolling in the program. Text messaging-based adherence programs have delivered impressive results in other settings as well. A variety of peer-reviewed studies have shown that these programs double the rates of medication adherence for middle-aged people with chronic diseases.
While easy to use for patients, this new text message program also provides actionable insights for Avella's pharmacists, who receive updates and adherence reporting from the system in a secure dashboard. Armed with this information, pharmacists can triage and target their high-touch outreach for patients. These insights can also be shared with the patient's care team as authorized—informing providers and/or care managers about adherence levels that can impact the quality of care.
"Given the proven results delivered by this program, we are very excited to offer it to our patients," said Rebecca M. Shanahan, CEO of Avella. "We will also be using the insights it delivers to optimize our overall adherence and patient engagement efforts."
Do you want easy-to-use text message reminders to help you stay on track with your medication? Learn more about the patient text message program.
Ready to Sign Up? It's Easy!
1. Text AVELLA to 90803
2. You will receive an opt-in message asking you to respond to a few initial sign-up questions
3. A CareSpeak representative will contact you within two business days to finish setting up your account