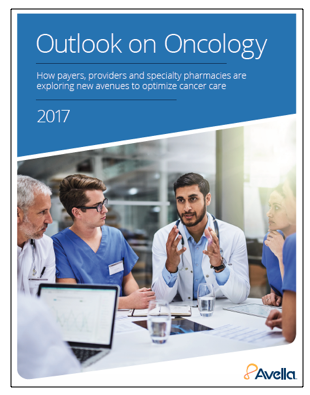 Would you be surprised to hear that two out of three people with invasive cancer are living 5 years or longer -- nearly 30% more than 49% in 1975? Clinical trial activity for oncology research also climbed more than 10% last year. Cancer care these days is filled with promise and hope for patients, even those with rare and hard-to-treat types of the disease. This can be attributed to extensive collaboration among healthcare providers, pharmacies, drug manufactures and payers -- toward the goal of improving patient outcomes.
Avella wants to arm our healthcare providers and other constituents with an in-depth perspective on the insights, industry trends and technological innovations that are expanding opportunities in cancer care within the ever-evolving value-based care system. This week, Avella Specialty Pharmacy released this white paper, available to view online.
A few key takeaways:
Value-based care efforts are focusing on cancer care to apply strategies within a high-risk population; this is an excellent opportunity for collaboration among physicians, pharmacists and care managers.
Many new oncology drugs have high potential (and costs). Oncology market sales have nearly doubled in the last eight years.
Just 1% of health plan members drive the vast majority of all claims costs. High-touch, high-tech adherence programs can make a significant impact.
FDA approval of new oral oncolytics gives specialty pharmacies more interactions with patients than ever before. Specialty pharmacies are now interacting directly with more patients at the point of care.
Specialty pharmacies aim to motivate patients to continue with their therapy with proven adherence programs, help them understand the benefits of treatment and answer any questions or concerns about medications.
"Specialty pharmacy has an important role in the transformation of cancer treatment, driven by breakthrough drug therapies," says Eric Sredzinski, Pharm.D., AAHIVP - EVP, Clinical Affairs & Quality Assurance. "With the clinical study results, payer considerations and impact on patient response to oncology treatment, this arena in particular is an ideal testing ground for improved collaboration among physicians, pharmacists and care managers."
Check out the following resources to learn how Avella works with our oncology patients and providers to provide the highest level of oncology care:
At Avella, we strive to deliver excellence beyond patient medication. We aim to provide valuable insights, helpful resources and industry information to better serve the overall healthcare system.