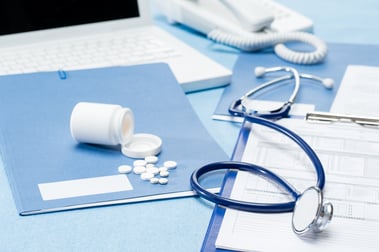 Giving patients a positive experience requires more than top-notch care. It means innovating, creating an easy and friendly experience, and catering to the way patients like to be communicated with to make the experience as painless as possible. Here are a few tips that will make your patient experience pleasant and productive for everyone involved.
1. Make Finding Your Practice Easy: Making a good impression starts with a web and mobile-friendly website where patients can learn about your practice. Over 50% of all searches online are happening on a mobile device, so ensuring a responsive website is key to making finding your practice as quick and easy as possible. When people get to your website, be sure to state your mission, credentials of your physicians, range of services you provide, office hours, and directions to the office. This helps provide information to the patient to save them time and energy, and start the experience on the right foot.
2. Provide Compassion, Respect and a Welcoming Environment: A welcoming practice should provide an accommodating and clean environment that makes patients feel comfortable and important from the moment they walk in the door. Physicians and staff should give patients their full attention without making them feel rushed. All staff should be trained to provide a consistent quality standard of service. This is what will set your practice apart from the competition.
3. Promote and Improve Communication: Make sure your front office staff possess excellent communication and interpersonal skills. Remember, this is the first touch point your patients receive, and first impressions matter more than ever. Throughout the entire process of making an appointment to following up after the appointment, the communication process should be consistent and professional. In addition, make sure you get feedback from your patients. Conducting patient satisfaction surveys can be very effective in keeping patients coming back, and responding to both positive and negative feedback to help continually improve your practice.
4. Make Ease of Access a Top Priority: Develop a well-managed appointment scheduling system, and ensure that your staff understands preparing for demand by having enough available appointments. If possible, develop a mobile app, or work with partners that have a mobile app, that will allow patients to make appointments, track appointments, download forms, make payments and receive appointment reminders. Learn more about our patient mobile app that can help your patients manage their medication treatment plan, and also provide some ideas if you're looking to build a mobile app for your practice.
5. Commit to Running on Time: When patients are kept waiting for ther appointments, it detracts from their overall experience. Staff should have a good idea of how much time to schedule when they make appointments for patients to ensure you are not over-committing to time and hurting your overall experience. One way to help with this is to use practice management software that tracks patients through the system from check-in to completion of their appointments. These digital efficiency tools can significantly improve service, patient flow, and keep providers running on time.
Mobile and digital tools are critical to help take your practice to the next level. Learn more about some of the digital tools we have created to help patients and providers keep track of medication, learn more about treatment options available, and easily access records at any time. You can also view these 4 tips to help you leverage mobile health technology for your practice.