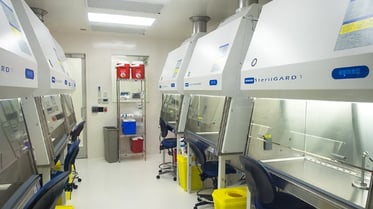 In 2013, the Drug Quality and Security Act established the designation of registered Outsourcing Facilities for large-scale, sterile compounding pharmacies. Outsourcing Facilities are subject to additional government oversight and must implement strict manufacturing standards. These standards, called Current Good Manufacturing Practices (cGMPs), are designed to ensure the quality and safety of compounded medications.
We understand that the regulatory landscape is continuously evolving and becoming more and more complex. To help our ophthalmology customers better understand the changing landscape, we hosted a workshop on this topic at Hawaiian Eye 2015. This workshop was led by William A. McConagha, a former FDA Assistant Commissioner and Policy Advisor.
In case you missed the event, we have developed a series of short, 1-5 minute videos, to provide ophthalmology providers with insights from this exclusive workshop. These videos will give you a better understanding of why the Compounding Quality Act was enacted and how it promotes patient safety through efforts such as the designation of Outsourcing Facilities for compounding.
The videos cover the following topic areas:
How did we get to this point?
What is a 503A?
Does the FDA or state agencies regulate compounding pharmacies?
DQSA: A new law: A new era
Why do I need to provide a patient prescription?
Wholesale Distribution vs. Dispensing: As defined by the law
503A & 503B - Similarities & Differences
Is the FDA going to hold 503B outsourcing facilities to the same standards as drug manufacturers?
Has the FDA taken action to enforce this new law?
Do I, the physician, have any liability?
Watch the 10-part video series to see how the Compounding Quality Act promotes patient safety through efforts like outsourcing facilities for compounding. In addition, we are very excited to announce the completion of our separate, cGMP-compliant clean room. Learn more about the new cGMP facility and download our exclusive outsourcing facilities whitepaper.