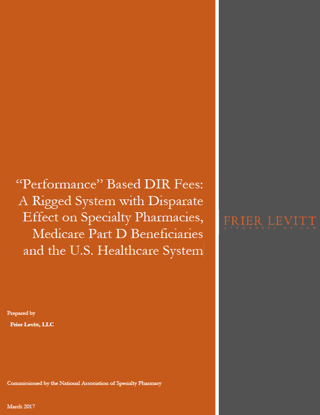 Direct and indirect remuneration (DIR) fees have been a hot topic in the healthcare industry recently. The issue has become so prevalent that the National Association of Specialty Pharmacy (NASP) executive committee commissioned a white paper taking a deep dive into these fees and their widespread effects.
DIR fees were created by CMS to ensure it had transparency into the scope of drug manufacturer rebates, so it could more clearly understand the true cost of drug therapies and ensure compliance with Medicare regulations. Unfortunately, over the past 16 months, PBMs – the companies that help implement Medicare Part D prescription drug plans – have adopted the term "DIR" to justify charging onerous fees that actually increase costs for both the 55 million seniors who rely on Medicare and the taxpayers who fund this program.
Now, PBMs apply DIR fees retroactively to pharmacies based on their performance against "quality" metrics, most of which apply only to retail (not specialty) pharmacies. While specialty drugs are often costly, the specialty pharmacies themselves operate on razor thin margins of 1-6%. DIR fees assessed by PBMs against specialty pharmacies can range between 3 and 5% or more. As a result, specialty pharmacies are often reimbursed PBMs for less than their costs to obtain the life-saving medications they dispense.
Now that you have a basic understanding of what DIR fees are, we are breaking down three major issues related to DIR fees and the damage they are causing patients and the healthcare system as a whole. You can also read the complete white paper for more information.
DIR fees don't account for high-touch care necessary in a specialty pharmacy environment
Retail pharmacies are community pharmacies that primarily fill and sell a wide array of brand and generic prescriptions via a retail storefront. Specialty pharmacies, on the other hand, are state-licensed pharmacies that predominantly provide medications to people with serious health conditions and highly-complex therapies such as HIV/AIDS, cancer and more. In addition to these medications typically having specialized handling instructions (storage, delivery, temperature) they are also complex in the way they must be taken and the severity of side-effects. Specialty pharmacies provide patient support services, training, financial assistance and more to ensure that patients stay out of emergency rooms and take their medication as instructed. A high-touch level of care that is not found at a retail pharmacy.
Takeaway: DIR fees cripple specialty pharmacies' financial ability to provide important services to patients who need them most.
Metrics used to asses quality and efficacy are irrelevant to specialty pharmacies
Performance-based fees are largely based on a ratings system, which applies to patients taking prescriptions for heart disease, high cholesterol and high blood sugar. Since these metrics are heavily retail pharmacy driven, and don't apply to the conditions specialty pharmacy are treating, this results in artificially deflated performance scores.
Takeaway: DIR fees are disproportionately and negatively impacting specialty pharmacies because they are being judged by criteria that largely do not apply to their patient populations.
Costs are shifted onto patients and the federal government, while PBMs profit
DIR fees are pushing seniors into the Medicare "donut hole" coverage phase faster, where seniors absorb a higher share of the costs for their prescriptions. These costs could force seniors to cut back on or even abandon lifesaving care. These fees are also pushing seniors into the ensuing Medicare catastrophic coverage phase faster, where the government's costs for prescriptions has risen from $10 billion in 2010 to $33 billion in 2015.
Takeaway: DIR fees contribute to escalated federal spending on prescription drugs, increasing the burden on taxpayers footing the bill for Medicare. If specialty pharmacies continue to lose money on every Medicare claim, they will be forced to reduce and/or stop their service offerings to Part D members, leaving sick seniors with inadequate support to succeed on high cost and complex therapies.
These are just a few reasons why DIR fees threaten the US Healthcare system, seniors and specialty pharmacies' ability to provide necessary high-touch care. Read the full white paper for more information, including a cover letter from Avella CEO Rebecca Shanahan on next steps for the industry.