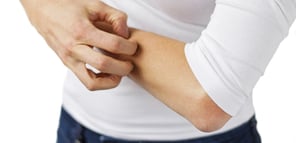 Are you suffering from psoriasis, or are you treating patients with psoriasis? In case you aren't familiar, psoriasis is a common skin condition that changes the life cycle of skin cells. Psoriasis causes cells to build up rapidly on the surface of the skin. With that build up, extra skin cells form thick scales and itchy, dry, red patches that are sometimes painful. While psoriasis is a long-lasting disease, there are treatment options to help halt the skin cells from growing so quickly, as well as alleviate pain for patients.
Avella is proud to be selected by Novartis Pharmaceuticals to be among a select group authorized to dispense COSENTYX™ (secukinumab), for treatment of moderate to severe plaque psoriasis in adult patients.
To learn how we support dermatology patients and their providers, visit us online. We offer a wide variety of treatment resources for our dermatology patients to help them learn more about their disease and adhere to their medication and treatment plan. You can also learn more about dermatology-focused services we offer, as well as download our dermatology referral form.

---
COSENTYX is a human interleukin-17A antagonist indicated for the treatment of moderate to severe plaque psoriasis in adult patients who are candidates for systemic therapy or phototherapy. Learn more about full prescribing information.
---
How will Avella work with your dermatology patients? Once we receive the prescription, we will:
Verify patient benefits and coordinate prior authorizations, when applicable
If the patient has a high co-pay, our Financial Assistance Specialists will work with the patient and your office to apply the patient to any applicable co-pay assistance programs
You will receive a confirmation regarding the status of each patient in 24-48 hours
Your dedicated Avella team will handle the rest.
We will contact the patient to arrange delivery to their home at no additional fee
Our clinical pharmacists are available 24/7 for patient support
---
This new drug is immediately available and prescribers can refer patients now. If you have any questions, please feel free to contact your account manager, or our national distribution center at (877) 546-5779.