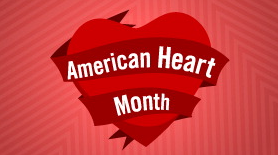 With February being National Heart Month, we want to share some great ways to help keep your heart healthy.
Did you know that heart disease is the leading cause of death in the United States? Every year, 1 in 4 deaths are caused by heart disease. The good news is that heart disease can often be prevented just by making healthier choices and lifestyle changes.
Here are just a few ways you can keep your heart healthy this month and throughout the year:
Get Active: The risk of heart disease doubles in inactive people versus those who are actively exercising. Start with aerobic activity like running, swimming, biking, and more to help reduce your risk of heart disease.
Eat Healthier: Start with filling up on colorful fruits and vegetables. This is the foundation of a healthy diet. Also, remember to enjoy healthy fats and eat more whole grains for your carbs. Here are some great healthy eating tips from the American Heart Association.
Reduce Stress: Stress is also a factor in heart attacks. Make sure you allow yourself time for daily relaxation to help clear your mind.
Manage Blood Pressure: First, start with knowing your blood pressure, and tracking on a regular basis. If you do suffer from high blood pressure, you can help reduce it by eating healthier, exercising, reducing salt, managing stress, and more.
Photo courtesy of the American Heart Association

To stay updated on the latest health and specialty pharmacy information, we invite you to subscribe to our blog for weekly updates.