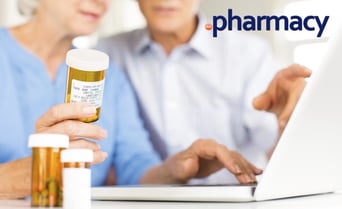 In a perfect world, 100% of Internet pharmacies would be operated by licensed pharmacists who adhere to state and federal pharmacy laws. In reality, nearly 97% of more than 10,900 online pharmacies that the National Association of Boards of Pharmacy® (NABP®) has evaluated appear to be operating in conflict with United States pharmacy laws and patient safety standards. It is important to be cautious when choosing an online pharmacy; if you do not see the warning signs you could end up shopping on a rogue pharmacy website.
How Do You Spot a Rogue Online Pharmacy?
No Prescription Required: For starters, if the Internet pharmacy does not require a prescription, it means that they are not adhering to state and federal pharmacy laws. Obtaining prescription medication without a prescription is dangerous. Prescription drugs are prescribed based on a doctor's examination and are meant to treat a specific individual's condition. What works for one person may not work for another. A lot goes into prescribing a medication; your age, physical symptoms, medical history, allergies, and other medications that you are taking are factored into the decision. Simply going to a website and self-prescribing a medication can lead to serious health consequences, including illness, permanent injury, or death.


Prescribe Based on Online Questionnaire: Some rogue online pharmacies ask for a prescription based on an online questionnaire and this is just as dangerous as no prescription at all because the prescription is not based on a doctor's evaluation of your health. Another warning sign is an online pharmacy that does not have a phone number or street address posted. You should have a way to contact a licensed pharmacist with any questions that you may have, and you need to be able to verify that the pharmacy is located in the country in which you reside. Email-only contact information is not a substitute for a phone number, you could be corresponding with an unlicensed person anywhere in the world.


Require You to Sign a Waiver: If you have to sign a waiver to obtain medication, it is a sure sign that you are shopping on a rogue online pharmacy. Signing away your rights should not be part of the medication purchasing process. Why would an online pharmacy need you to sign a waiver? Some rogue Internet pharmacies have been found to sell counterfeit medications with dangerous filler ingredients such as rat poison and drywall. Other sites sell medications that are manufactured in unsanitary environments or are painted with chemicals like printer toner to resemble the color of legitimate medications. Still, other websites sell counterfeit medications with too much, too little, or no medication at all. This puts you at risk for becoming ill from the medication or leaving your condition untreated.
How can you ensure the safety of an online pharmacy? .Pharmacy domains are increasing patient safety on the internet.
In order to provide consumers around the world with a means to identify safe online pharmacies and related sources, NABP became the official registry for .pharmacy, which is a new Top-Level Domain (TLD) similar to .com or .org. However, .pharmacy is set apart from other TLDs because it is only granted to legitimate website operators that adhere to pharmacy laws in the jurisdictions in which they are based and in which their patients and customers reside. Pharmacies and pharmacy-related businesses that bear the .pharmacy domain must meet core safety standards that were created by NABP and a coalition of global stakeholders. The goal of .pharmacy is patient safety.
Remember: Not all websites that sell medications are created equal. Some operate illegally and may sell counterfeit or falsified drugs and devices, putting your safety, health, and personal information at risk. Here is a checklist of some of the common characteristics to see if an online pharmacy might be selling prescription drugs that are counterfeit, contaminated, or otherwise unsafe.
No prescription required

Prescription based solely upon online questionnaire

No phone number or street address

No pharmacist consultation

Limited medicines

Spam solicitations
Avella Specialty Pharmacy is proud to be one of the first pharmacies approved to use the .pharmacy domain name. We invite you to learn more about the .pharmacy domain and why avella.pharmacy it is important to us.
Photo Credit: http://www.safemedsonline.org