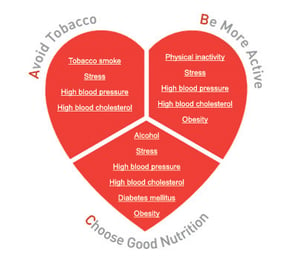 According to the American Heart Association, cardiovascular disease claims more American lives each year than all forms of cancer combined.

Cardiovascular disease can be hereditary, such as hypercholesterolemia, or not hereditary, such as pulmonary artery hypertension. No matter which disease you have, or are at risk of getting, making smart choices is the first step to reducing your risk of cardiovascular disease, and the smart choices you make now will pay off in the long run.
Here are 5 ways to help manage your risk of cardiovascular disease:

1. Diet: Some foods increase your risk of cardiovascular disease, but other foods help lower that risk. Reduce or avoid saturated fats and sodium, and limit your sugar and red meat intake. Instead, focus on consuming healthy fruits and vegetables and whole grains. Incorporate fish into your meal plans, and choose healthy snack options such as nuts, seeds or legumes. Practice portion sizing to reduce the urge to overeat during meals.

2. Exercise: Incorporate exercise into your life to work your heart muscles, remove access fat and reduce your risk of cardiovascular disease. Aim to get at least 30 minutes of physical activity 5 days per week. Choose brisk walking or cycling when the weather outside is nice. Children need one hour of physical activity every day, so incorporate activities which get the whole family involved. Developing healthy lifestyle habits at a young age makes it easier to continue them later in life.

3. Stress: Everybody's life is stressful, but managing stress is vital for proper heart health. Stress damages your arteries and can lead to an increased risk of cardiovascular disease. If stress is a problem in your life try relieving some of it with yoga, meditation and deep breathing exercises. Find some time for you to relax and unwind each day. It can help your overall health.

4. Sleep: Getting a good night's rest each night is important for overall health including your heart. Have snoring checked if it's a problem. Sleep apnea is a condition which causes you to pause breathing during the night time. Without proper treatment this can lead to a number of conditions including cardiovascular disease.

5. Medication: Including proper medications with your healthy lifestyle changes is an important step in managing cardiovascular disease, as medications can help your heart perform better and protect it from further damage. Avella will not only provide you with highly specialized medications to treat cardiovascular disease, but will also offer information and support. We will work with your health-care team to make sure that your medications are working as planned and can also help you manage side effects. We have also designed a mobile app to make it easy to request prescription refills and receive important information and reminders. Whether you are at risk of developing cardiovascular disease, or have already been diagnosed, just remember that a healthy lifestyle, coupled with proper medications, can be extremely beneficial.

If you suffer from cardiovascular diseases like hypercholesterolemia or pulmonary artery hypertension, there are a variety of innovative medications that can help you. Avella dispenses advanced cardiovascular disease medications through our community pharmacy locations and our delivery and mail order services.

image courtesy of healthlifemedia.com