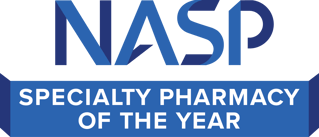 We are excited to announce that at the 4th annual National Association of Specialty Pharmacy (NASP) meeting in Washington D.C., Avella was named Specialty Pharmacy of the Year. The award is the first of its kind and Avella was chosen from 1,200 corporate association members.
According to the NASP release, the winners were selected after an extensive review from a group of peer nominated leaders within the industry. Avella was selected for "embodying the practice of Pharmacy in the field of Specialty" based on:
Community involvement
Patient satisfaction
Cost management
Quality/performance improvement initiatives
Innovation in the field including, patient care and outcomes, disease state and therapy management, and patient engagement

NASP President Burt Zweigenhaft commented, "This year's NASP award winners this year are exemplary representatives of the specialty pharmacy industry... Specialty Pharmacy provides a crucial and unique service to the most vulnerable patients in the country, ensuring they have access to the life-changing medications they need, along with the necessary support to endure complex treatments. This year's awards recipients showed inspiring commitment to making quality care accessible to their patients, and today we commend them for their efforts."
Todd Speranzo, Avella's VP of Marketing, accepted the award and added, "Every day we're searching for new medications and technologies to ease the burden of care for thousands of patients and families suffering from rare, chronic and debilitating diseases... the entire health care system will benefit from the advances we've made this year, but in Specialty Pharmacy, the patient comes first... and we remain committed to facilitating the highest quality care available for specialty pharmacy patients nationwide."
This award comes days after Avella was named by Drug Channels as the largest and Fastest Growing Private Specialty Pharmacies of 2015. Avella will continue its growth by moving into a larger location later this year. We will continue to keep you updated on that announcement and others in the future. In the meantime, you can learn more by reading the press release from NASP about the Specialty Pharmacy of the Year Award.