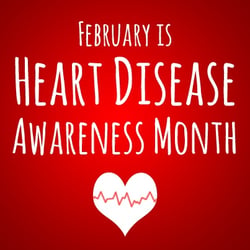 Keeping your heart healthy is one of the most important things you can do to take care of yourself. According to the American Heart Association, heart disease is the leading cause of death for men and women. Every year, 1 in 4 deaths are caused by heart disease.

The good news though is that heart disease can often be prevented when people make healthy choices and manage their health conditions effectively with their healthcare providers. Communities, health professionals, and families can work together to create opportunities for individuals and families to make healthier daily and lifetime choices to help reduce heart disease in the U.S., and around the globe.

Here are 6 changes you can make to start to living a heart-healthier lifestyle:
Schedule Regular Check-ups with Your Doctor: It's important to schedule regular check-ups even if you think you are not affected by heart disease, or other health conditions. Partner with your doctor and health care team to set goals for improving your overall health.
Add Daily Exercise to Your Schedule: The risk of heart disease doubles in inactive people versus those who are actively exercising. Start with a daily walk, and then increase your exercise regimen to include aerobic activity such as running, swimming, biking, and more to help reduce your risk of heart disease.
Increase Healthy Eating: Start cooking heart-healthy meals at home at least 3 times each week and reduce sodium in your favorite recipes. Try swapping salt for fresh or dried herbs and spices.
Stop Smoking: Smoking is the most preventable cause of premature death in the U.S. Smokers have a higher risk of developing many chronic disorders, including atherosclerosis, the buildup of fatty substances in the arteries, which can lead to coronary heart disease and stroke.
Reduce Your Stress: Stress is definitely a factor in heart attacks. Make sure you allow yourself time for daily relaxation to help clear your mind and reduce your stress level. It's difficult to avoid stress, but how you manage it can make all the difference.
Take Your Prescribed Medication: Talk with your doctor about the importance of medications to help you manage your heart disease. If you suffer from cardiovascular diseases like hypercholesterolemia (a hereditary form of high cholesterol) or pulmonary artery hypertension, there are a variety of innovative medications that can help you.
Avella is a national specialty pharmacy dedicated to meeting the unique needs of patients requiring cardiovascular disease medications and their health care providers. Learn more about how Avella works with our patients and their providers to help manage heart disease.
Check out this infographic from Healthline about heart disease facts, risks, prevention, and more. Share it with your family and friends to help them
live heart-healthier, too.