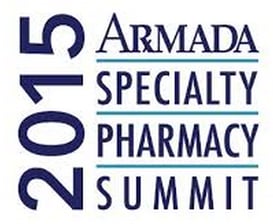 This is a guest blog post from Chris Calagis, R.Ph., MBA, National Sales Director, East Division at Avella and Stan Pflueger, MBA, Business Intelligence Analyst at Avella.
This year, Avella was a sponsor of Armada 2015. We had 12 people from our team attend, and with many people in the organization in attendance, we are excited to share their main takeaways.
The Armada 2015 Summit offered everything...even the kitchen sink: With almost 4,000 attendees, Armada 2015 was well attended by various organizations across the specialty pharmacy world including pharmacies, manufacturers, payers, wholesalers, consultants and investors. This created an amazing, unique opportunity to network and explore ways to strengthen our business. In addition, this event offered several discussions, CE events and seminars on almost every topic imaginable from disease state management to pharmacy management workshops. Top it all off with the atmosphere of Las Vegas, great weather, amazing food and a little fun - how could you go wrong?
Here are 5 key takeaways from our team from the 2015 Armada Specialty Pharmacy Summit:
Specialty pharmacy is alive and well: An overwhelmingly common theme throughout the event focused on the explosive growth in specialty pharmacy. Almost every discussion started with a recap about past and future growth and the estimate that by 2018, half of all drug spending would be on specialty pharmacy. Manufacturer pipelines are stacked with specialty drugs in almost every category including oncology, inflammatory conditions, infectious disease and MS to name a few. Manufacturers are not only offering up more drugs, but better therapeutic alternatives. This is a most exciting time to be in specialty pharmacy.
Payers continue to struggle: Clinical innovation and explosive growth is a wonderful thing, but how do we pay for it? That is the big question many payers are asking themselves as there is just not enough money in the piggy bank. Treat the sickest first? Limit choices? Narrow networks? Increase patient responsibilities? These are all potential strategies and approaches being explored by payers. The bottom line is there needs to be a viable solution for all parties involved. Competition, outcomes management, waste reduction and appropriate product selection are all logical mechanisms that will help control costs. This means more prior authorizations, step edits, closed formularies and stringent criteria. Certainly all things that taint the patient experience but realistic action that payers must take.
Manufacturers continue to face increased competition: Almost every therapeutic category faces fierce competition either today or coming soon out of the pipeline bullpen. Not for a long time will we see a story similar to the Gilead fairy tale...even they now have competition. More competition means better pricing, a struggle for clinical superiority and outcomes, the race for the most indications and the start of payer rebate wars. Bottom line, which product brings the most value? By that I mean efficacy, price and utilization. All of this will help the payer struggle - it is simple economics.
The pharmacy space is overcrowded: One thing that was very apparent is there are more specialty pharmacies today vying for business than ever before. Long gone are the days when you could count your competitors on one hand. Today, you would be lucky to count them using all of your fingers. Many have taken the quick train to crowded town and "specialize" in HCV. This is not hard to pull off, cheapens the market and at the end of the day frustrates the physicians. Everyone wants to be a specialty pharmacy. Probably, but the truth is there is a ton of spending in this space and everyone wants a piece of the action. Makes sense, but like any other business model, only the strong will survive.
The next 5 years of specialty pharmacy: What will the specialty pharmacy landscape look like in the next five years? Access to payer plans will be given to those pharmacies who can increase patient adherence to therapy and decrease therapy abandonment rates. Download our mobile app case study focusing on patient adherence that launched at Armada 2015.
How to maintain a great patient experience: The "patient experience" is the sum of all interactions that a patient has with their pharmacy, and this experience is shaped by the company's culture, and influence by patient perceptions. The big takeaway is that as the company grows, every employee should know, and be able to recite the company's value proposition.
As you can see, Armada was filled with thought-provoking sessions, presentations to help drive innovation, and key ways the healthcare industry can drive a better patient experience, while continuing to grow, innovate, and delight customers at every end of the value chain.
To get the latest specialty pharmacy news and information directly to your inbox, subscribe to our blog today to stay updated.