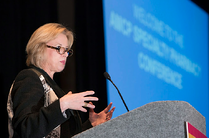 Did you know that by 2016, 8 out of the top 10 branded pharmaceuticals in the United States will be specialty medications? To help prepare for this continued industry growth, specialty stakeholders are looking at four main components to further connect the many facets of the healthcare industry.


Integrated Care: Pharmacy and medical benefits need to be further integrated for the patient. In addition, advances in web-based technology interfaces need to be used to increase administrative efficiencies across the industry.


Documented Quality: Patient and provider network satisfaction is critical, while also implementing best practices in clinical and formulary management.


Patient Access & Empowerment: Patients need to have technology at their fingertips to increase adherence. This includes programs such as text message reminders, increased patient education, and innovative tools like GlowCaps to increase patient empowerment.


Predictable Costs: Value-based healthcare and bending the cost curve are becoming increasingly important across the healthcare industry.
Specialty pharmacy is a key factor to connecting the many silos that reside in healthcare. From physicians to payors, to pharmaceutical manufacturers, specialty pharmacy links these groups together to produce unmatched results in communication, patient safety, medication adherence, and improved patient outcomes.
To further explain this, we invite you to download the keynote presentation from Rebecca M. Shanahan, CEO of Avella, at the recent AMCP 2014 Conference. Rebecca focused on the optimal role that specialty pharmacies play in connecting the healthcare industry and improving patient outcomes.